Through puppetry and a hybrid of live performance, Blackbird: Honoring a Century of Pansy Divas introduces an entourage of maverick performers who gave a new voice to the queer underground. From Prohibition to the Borscht-Belt, from a Zen Hospice to a contemporary Bulgarian pop singer, Blackbird pushes the boundary of how we view gender variance and anti-discrimination through history.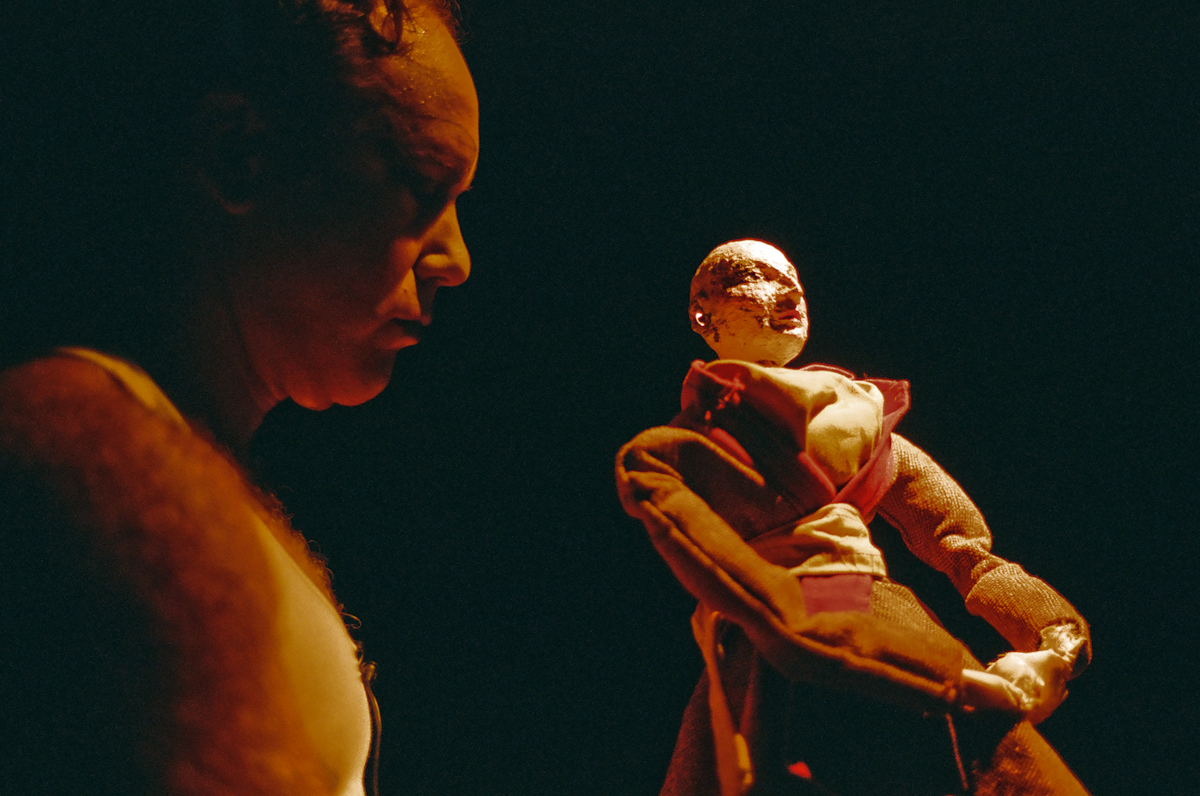 Through puppetry and a hybrid of movement, music, video and monologue, Blackbird unfolds through song and storytelling, illuminating the lives of characters who made astounding cultural and social contributions while remaining virtually unknown to both straight and gay audiences alike.
The diverse characters of Blackbird will bring to life lost queer histories, giving image, voice and movement to the forgotten, the unspoken and the taboo. In a time when radio, stage and film were the popular mediums of entertainment, Blackbird's emcee, Jean Malin, led the movement of gay acts in speakeasies and initiated the 1930's cultural phenomenon called the Pansy Craze. He serenades us into a falsetto spell, stitching together songs about politics, war, race, economics and gay love.
From the Borscht-Belt to the dazzling nightclub scene of the 1940s, the musical begins with the inimitable and questionably gay stage and film star, Danny Kaye. We then follow Issan Dorsey, drag queen turned Zen Abbot, as he takes us from the drag circuit of the 1950s and then later in life to the founding of the first Buddhist AIDS hospice. In the 1960s, Ney Matogroso, the flamboyant Brazilian rock star, queered the music scene even under a military regime.
In the 1970s, when Harvey Milk reigned as the so-called Mayor of Castro Street, Sylvester was becoming the dazzling, international disco diva phenomenon. The 1980s segment features new wave-operatic siren Klaus Nomi. The story ends in the present day with Azis, the outrageous Bulgarian pop star, known for his atypical gender expression in an unparalleled gender-bending act.
Though their stories and cultures may differ greatly, all these characters have in common a unique approach that helped redefine what it means to be out, queer and vocal.
Robert Avila of the Bay Guardian says:
"The intimate Blackbird Funeral Parlour Speakeasy is somber-toned and deceptively hushed, complete with period furnishings, a see-through dressing room, softly flickering altar, and obligatory piano. Only a few moments into Seth Eisen's exceptional one-man cabaret, however, and the place is alive and kicking: doleful aspects of the decor making ample room for a sly, vigorous, soulful performer and a completely unexpected journey through some vibrant underground queer history...
Your guide is 100-year-old Jean Malin, author of the notorious 1930s Pansy Craze, 75 years dead and looking fabulous in tails, bold green cravat, dapper purple hankie, and a topping of regal black plumage (costumer Jack Davis demonstrates a genius throughout for turning a shoestring budget into a G-string–supported extravaganza). A multifaceted performer with quick tongue, nimble steps, and hearty voice, Eisen uses drag, dance, puppetry, and performance art techniques to give flight to worthy exotic blackbirds known and forgotten — drag queen Zen priest Tommy Issan Dorsey; sexually ambiguous Danny Kaye; Brazil's inimitable Ney Matogroso; the definitely outré Klaus Nomi; and disco treasure Sylvester, whose live rendition of the Beatles' "Blackbird" at the War Memorial Opera House is one of several standout moments in this rollicking and poignant act of resurrection, insurrection, and homage."
CREDITS:
Written and performed by Seth Eisen.
Brian Freeman (Pomo Afro Homos) directs this musical evening of mimicry, puppetry, and faggotry.
Inspiration drawn from:
Gay New York: Gender, Urban Culture, and the Making of the Gay Male World, 1890-1940, George Chauncey, (1995, Basic Books)
Martin Gottfried's Nobody's Fool, (Simon and Schuster, 1994)
David Schneider's Street Zen: The Life and Work of Issan Dorsey, (2000, Da Capo Press)
Joshua Gamson The Fabulous Sylvester: The Legend, the Music, The Seventies in San Francisco, (2006, Picador)
The Nomi Song—The Klaus Nomi Odyssey, Andrew Horn (2005, Palm Pictures)
FUNDING:
Blackbird was created with support from the following organizations: The San Francisco Arts Commission, The Zellerbach Family Foundation, The William and Flora Hewlett Foundation, Mama Calizo's Voice Factory, The Queer Cultural Center, and generous individual donors.