Homo File chronicles the life of iconoclast Samuel Steward (1909-1993). Steward was a college professor, a prolific author of homoerotic fiction, an influential tattoo artist, and Queer sexual rebel who lived his final three decades in the Bay Area before dying in his 80s, nearly forgotten.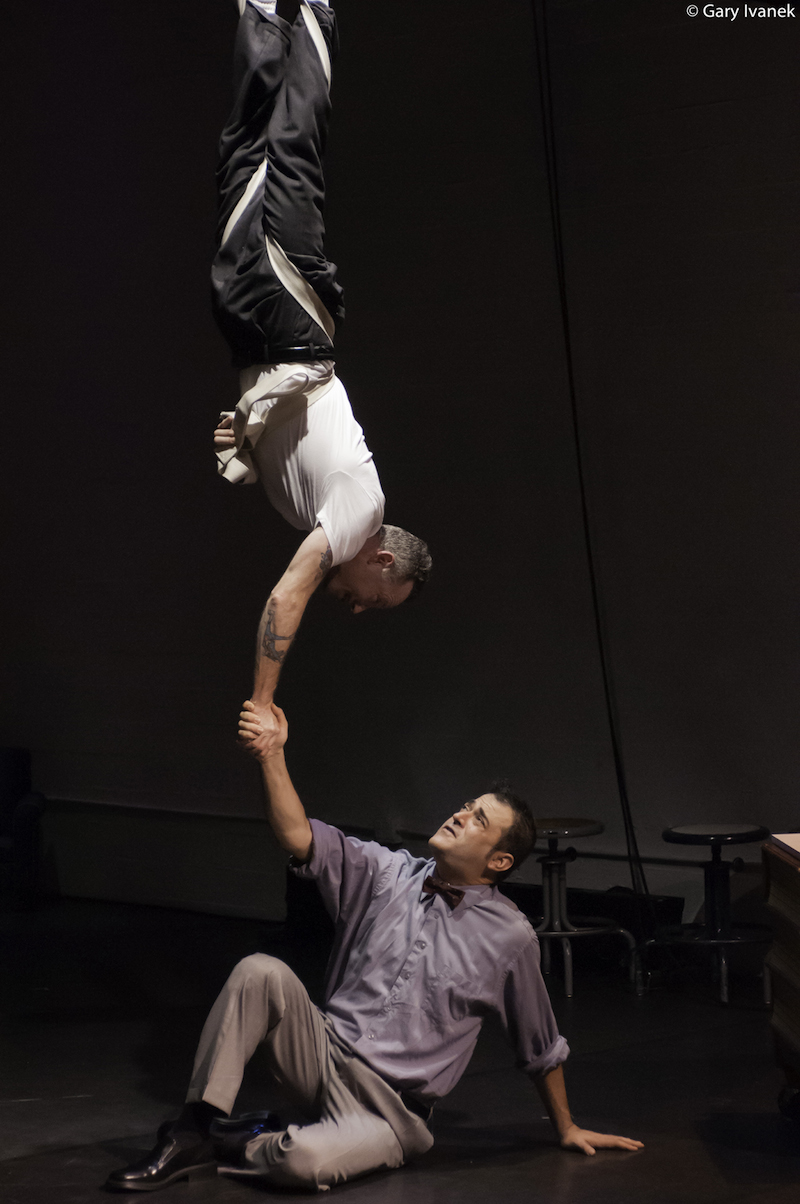 The title is inspired by two facts: Early civil rights activists employed 'Homophile' as an alternative to 'homosexual.' Steward kept meticulous records of his sex life for over 60 years called Stud Files. In Homo File, we combine performance, puppetry, music, aerial dance, video and visual art to examine Steward's life 20 years after his death. Because Steward meticulously described all of his sexual encounters, his memoirs fill in missing pieces of Queer history (1930 through 1969), a period when the majority of the nation's LGBT community lived underground. His creative output provides windows into the life of a gay man who accepted his sexual orientation and examined his sexual impulses as sources of self-knowledge and artistic vision.
Homo File's chronological narrative structure highlights the key moments of Samuel Steward's life, as he evolves over the course of the Twentieth Century through his friendships with author Gertrude Stein and her partner Alice B. Toklas, revolutionary sex researcher Alfred Kinsey, playwright Thornton Wilder, renowned gay photographer George Platt Lynes and numerous other LGBT luminaries.
Steward's life story reflects the experiences of many Queer ancestors whose lives have been erased from the historical record. Steward's writings are a testament to how difficult it was for earlier generations of LGBT men and women to pursue self-empowerment and achieve self-acceptance while living inside a homophobic culture defined by prejudice and intolerance. By refusing to submit to social oppression, Steward paved the way for future generations of LGBT Civil Rights advocates and contemporary Queer culture.
Homo File's cast includes multidisciplinary performer/artists: a puppeteer, a visual artist, a musician and five actors. The production employs contemporary stagecraft to emphasize how one man telling his story helped pave the way for the evolution of Queer culture. The devised script was developed with the cast and the Artistic Director combining Steward's writing, memoirs and documentation. Actors portray scenes from his life, exploring and underscoring his contributions as a sexual liberationist and artist, a beacon for our own evolution as Queer artists and individuals.
Balinese shadow puppets introduce the main character, whom we encounter as a teenager and later as an energetic, young college professor. A Japanese inspired bunraku style puppet represents the older Steward and conveys his approval and acceptance of the events of his earlier life. An on-stage visual artist re-creates Steward's drawings in real time on an overhead projector, revealing him to be a sex obsessed tattoo and visual artist who drew his erotic life as a way of documenting it. Elements of aerial dance and circus acrobatics explore Steward's relationship to his body and create a kinesthetic stage environment symbolic of the huge risk he was taking by documenting his life.
Composer Jewlia Eisenberg employs an ensemble of typewriters to metaphorically accentuate the "files" that resulted from Steward's life-long practice of documenting his every sexual encounter. Projected videos and photography re-imagine Steward's use of Polaroid photos to provide visual "evidence" of his sexual activities inside a society that required him to remain invisible. These different expressive strategies enable the audience to perceive that different components of contemporary queer culture have their roots in the first half of the 20th century.
CREDITS:
Brian Livingston (Samuel Steward) is a Bay Area native, a long time actor, educator and director. He holds an BA from SFSU and an MFA in Dramatic Arts and Acting from UC Davis. He is a long-time core company member of foolsFury Ensemble creating over ten shows, touring two in New York. With Christine Marie Ensemble won best of New York Fringe Festival for work with on shadow puppet show Ground to Cloud. Most recently Brian was seen as Hedwig in Boxcar Theater's Hedwig and The Angry Inch. He has played major roles in Shakespeare, Moliere, Williams, Ioenesco and Checkoff and just completed a tour of his one-man show Fragments from Artaud's Desk. Brian works on the synthesis of traditional actor training from Stanislavski to Grotowski, contemporary devised work and ensemble development. Brian has trained around the world and at home with foolsFURY, Anne Bogart and the SITI Company, Dominique Serrand, Antero Alli, Stephen Wangh, Mary Overlie, Jim Kirkwood, Hiroko Tamano, Sara Shelton Mann.
Michael Soldier (Gertrude Stein, Dr. Alfred Kinsey) has had feature film roles including parts in The Gay Bed and Breakfast of Terror and The Craving, and is currently in production on a Bollywood feature, playing an FBI agent. He is a featured interviewee in the documentary Filthy Gorgeous and in 24 Hours On Craigslist which aired nationally on PBS. As a lead vocalist in his genderfucked rock band PEPPERSPRAY, he opened for Cher's Farewell Tour and Scissor Sisters. He received three major awards during his 6-year gay porn career. He had lead roles in smash revival productions of the Cockettes' 1970 musicalsPearls Over Shanghai, Hot Greeks, and Tinsel Tarts in a Hot Coma at Thrillpeddlers' Hypnodrome Theater. As drag alter-ego Precious Moments, s/he won the 2001 SF Miss Trannyshack pageant. He has enjoyed work as a Massage Therapist since 1992.
Katharine Otis (Alice B. Toklas, Emmy Curtis, Edith Ellis) seeks to explore the human condition through the performing and healing arts. She's walked in the shoes of many characters throughout her life on the stage; each character she plays is like meeting a new aspect of herself. A graduate of New York University's Tisch School of the Arts in 2002, she received her B.F.A. in the Theater. After University, she completed a year long apprenticeship with Theatre de la Jeune Lune in Minneapolis. Since then she's been certified to teach yoga, has relocated to the Bay Area, co-founded Back Alley Theater, received a certificate in Sound Voice and Music Healing at CIIS, traveled to India, and most recently played in Repurposed Theatre's Drowning Ophelia. (www.katharineotis.com)
Matthew Simmons (Chuck Renslow, George Platt Lynes, Musician) has studied theater with the Guthrie Theatre and the National Theatre of Dublin, dance with the Minnesota Ballet, and music at University of Minnesota. In 2012 he received Honorable Mention for Best Actress in theLA Downtown Film Festival for his role as a peg leg ballerina in The Glitter Emergency. In the Bay Area Matthew has performed as a solo act for corporate functions from Google to Mercedes Benz. As drag persona Peggy L'eggs he is part of Pepperspray as Lead Vocalist/keyboards as well as performing in countless productions with Peaches Christ. His solo show Pink Ladies and Steak made its debut in the Sydney Arts Festival in Australia 2004.
Ryan Hayes (Sir Francis Rose) has spent 15years in San Francisco as an actor in plays, films, commercials, and festivals. He's nominated for Best Featured Male 2013 by the SFBA Theatre Critics Circle for his work in Gorgeous Hussy with Wiley West Productions. Ryan's most recent work includes Storm/Stress/Lenz (Best of SF Fringe) and Tutor with Dark Porch Theatre, Drowning Ophelia with Repurposed Theatre, The Merchant of Venice with The Custom Made Theatre and appears again on their stage this autumn in Slaughter House 5. He's a founding member of No Nude Men and is working with Berkeley Rep. as an understudy in The Accidental Death of an Anarchist. Ryan has developed and performs a solo show adapted from Walt Whitman's poetry titled Boys Together Clinging.
Carlos Barrera (Luis Rose, Dan of the Hells Angels, Wally, Sailor) is originally from Colombia, he is an engineer by training and an actor by passion. Most recently he was seen as Harpo Marx in Tinsel Tarts on a Hot Coma, the Herald in Marat/Sade, and Thersites in Hot Greeks all with Thrillpeddlers. He has also appeared as Jose Sarria in the revival of Sex Rev with Theater Rhinoceros, and performed with New Conservatory Theater Center, No Nude Men, and Performers under Stress. He was also part of La Tropa where he took part in multiple productions of texts by Latin American authors. In 2010 he made his playwright debut with his play 32,700 Instants of Horror at the San Francisco Fringe Festival.
Kip Lisette (Lead Video Artist, Puppeteer) is an Oaklander, a queer, a Taurus, a writer, a radio junkie, and a video preditor (producer + editor). A graduate from NYU's Tisch School of the Arts with a degree in film and television, Kip has worked with MTV/LOGO, GLAAD, Project Runway, and the revolutionary Autostraddle.com. Kip is ever-pondering how we un/re/define ourselves and the space around us. Kip returns as lead video artist and puppeteer from the original 2012 production of Homo File.
Rich Hutchison (Sailor, Lead Puppeteer, Video Artist) is a native of Aberdeen, Scotland and has been performing stand-up comedy for the past 5 years in the San Francisco Bay Area, including as a featured performer in the 2013 Hella Gay All-Stars comedy show. As one of the original members of the Puppetopolis puppet group, Rich is actively involved in performing, puppet building, writing & video production. The group has produced dozens of online puppet videos including spoofs of Titanic, Pretty Woman, and Orange Is The New Black. In September 2013 the group won 1st prize in a national competition for theirSpaghetti Warehouse music video. Rich frequently performs his crowd-pleasing "Puppet-Drag" act with his puppet Adildo as part of the Meow Mixx variety show at The Stud in San Francisco. In 2014 Rich began an internship with the San Francisco branch of Puppet School. Rich returns as a cast-member from the original 2012 production of Homo File.
Diego Gomez (Cliff Raven, Sailor, Lead Visual Artist) is the native San Franciscan also known as Trangela Lansbury! He is SFWEEKLY's "Best Bearded Lady" & in 2011 & 2013, he made the SF Bay Guardian's "Hot Pink List"! In 2012 he was Artist-in-Resident at Providence, RI's AS220 & upon his return was hired to fashion illustrate at the De Young for the Jean Paul Gaultier's Paris Is Burning night! That September, Diego held the panel discussion Homo Superior: Queering Comics, Costumes as Drag & Gender Equality at Stan Lee's ComikazeExpo Comic Book Convention in Venice, CA and went on to co-curate Queering Mythologies for the National Queer Arts Festival! Diego's been in 2 Cockettes musicals, art directed magazines, illustrated & designed for Exploratorium, SF AIDS Foundation & Glamazonia: The Uncanny Super Tranny!
Cathie Anderson (Lighting Designer) designs lighting for theater, concerts, dance and special events in the Bay Area and Honolulu. She is the lighting designer artist in residence for San Francisco's Brava Theater Center and freelances for other entertainment productions and venues. Cathie received a Bay Area Theater Critics Council award for Outstanding Achievement in Lighting Design for mid-size theaters, was nominated for a BroadwayWorld.com award for local lighting design, as well as received the Hawaii State Theater's Council Po'okela award for Excellence in Stage Lighting. Cathie designed lighting for Seth's partial debut of HomoFile at CounterPulse in 2012, and is looking very forward to working with Seth again in lighting the full debut of HomoFile.
Buzz Bense (Assistant Director) studied directing at the graduate program of the University of British Columbia, Vancouver. He worked professionally in BC with Tamahnous Theater and Theater Energy, creating original works and touring BC. In 1979, he moved to San Francisco, and worked with the Gay and Lesbian Theater Collective directing Contents Under Pressure. He also worked with Theater Rhinoceros and Project Artaud. In 2003, Buzz joined Pegasus Theater in Guerneville and acted in Sordid Lives, Bent, Swimming in the Shadows, Friends Are Forever, and A Wonderful Life (the Radio Show). He directed the world premiere of Sweet Jesus by Nathan Sanders, Eastern Standard by Richard Greenberg, and Avow by Bill C. Davis. His most recent Pegasus project was directing and set design for Kimberly Akimbo by David Lindsey Abair in 2013. In 2012 he directed Kirk Read in his performance piece Computer Face at The Garage in SF.
Keriann Egeland (Costume Designer) received her BA in Performing Arts and Social Justice, with an emphasis on dance, from the University of San Francisco in 2010. Combining her passion for fashion and performance, she began costuming for the stage in 2009. Her designs are often inspired by the sleek styles and textures of the Art Deco period through to the bold motifs of the Mods. Over the years she has had the privilege of designing costumes for Little Seismic Dance Company, Paufve Dance, Nina Haft & Company, Peiling Kao, David Herrera Performance Company, Eye Zen Presents, and AXIS Dance. Please visit www.keriannkelly.wordpress.com to stay updated on past, present and future endeavors.
Jewlia Eisenberg (Composer) works with her ensemble Charming Hostess at the intersection of voice, text and diaspora consciousness. She's been curated into the Contemporary Jewish Museum, YBCA, the Museum of Peace in Uzbekistan, and the Prague Bienalle. Recent work includes The Bowls Project, on Babylonian women's amulets, and Trilectic, on Walter Benjamin. She has been commissioned from such sources as by the Sloan Foundation and the Goethe Institut SF and has received numerous awards, including: Trust for Mutual Understanding grant for collaboration with poets in ex-Yugoslavia, the Puffin Foundation grant for her Red Rosa project, a Katzenstein Fellow for collaboration with experimental architects and engineers as an Artist-In-Residence at MIT, a Rockefeller Foundation Multi-Arts Production Fund Grant for 'The Grim Arithmetic of Water, with aerial dance choreographer Jo Kreiter, a Goldman Fund Tikea Fellow for project-based radical film and music work with youth, and a Weisz Fellow for field research and recording among Jewish women in theGondar region of Ethiopia. More at www.charminghostess.com
Brian Freeman (Dramaturg) has directed solo shows by Paul Flores, Robert Karimi, Regie Cabico, Jerry Quickley, Wayne Harris, Diane Ferlatte, Marijo, Wayne Corbett, Canyon Sam and others; experimental works with Bill T. Jones, Cultural Odyssey & Pomo Afro Homos (co-founder); and plays with the Mark Taper Forum, Joseph Papp Public Theater, the Theater Offensive and others. A playwright, director, and performance artist, he was Resident Artist/Director, Blacksmyths Theater Lab at Center Theater Group, Los Angeles. His play Civil Sex, about the late Civil rights activist Bayard Rustin, was produced by Berkeley Repertory Theater, the New York Shakespeare Festival/Public Theater, Thick Description, San Francisco and Woolly Mammoth Theater in Washington, D.C. Awards include a California Arts Council Playwriting Fellowship, the CalArts Alpert Award in Theater and a New York Dance and Performance "Bessie" award. Brian served as the dramaturg for the work-in-progress production of Homo File in 2012 and returns in 2014.
Terrance Graven (Bunraku Assistant Puppet Builder) is a San Francisco artist whose installations often incorporate sculptural elements, live performances, costumes, sound pieces, and theatrical lighting. He studied at Indiana University and holds a Bachelor of Arts degree from San Francisco State University (Honors Program/Painting). In 1992 he formed COLLAPSINGsilence Performance Troupe, which was active for thirteen years. He has been a guest lecturer/instructor at UC Berkeley, Stanford University, Douglas and Sturgess, Jon Sims Center for the Arts, Yugen Theater, and the Harvey Milk Institute. He has exhibited widely in the Bay Area including shows at David Cunningham Projects Gallery, San Francisco Museum of Modern Art, De Young Museum, Yerba Buena Center for the Arts, 111 Minna, The Lab, and others.
Joshua McDermott (Set Designer) graduated from the University of Hawai'i with a masters in Asian Theatre, with a focus on Japanese underground theatre. Since relocating to the Bay Area he has primarily worked as a technical director and scenic designer with such companies and spaces as Campo Santo, the ESP project, Theatre of Yugen, New Conservatory Theatre Center, Marin Academy, Intersection for the Arts, Cellspace, and The University of San Francisco where he is Technical Director and Resident Designer. He is currently building and coordinating the Tech and Design program at the USF.
Kevin O'Connor (Aerial Choreographer) I grew up dancing in a community in Ontario, Canada where I continue to be part of a collective of settler canadian and Indigenous artists. I am now based in the Bay Area where I am in the midst of a PhD in performance studies at UC Davis. My art practice sits at the intersection of ecology, embodying/touch practices, post-colonial studies and site specific performance. My art practice has been enriched by completing a Bachelor of Science in Ecology from the University of British Columbia, a degree in Circus Arts from the National Circus School of Montreal, a MFA in choreography at the University of California Davis. For the past decade I have been learning with the Axis Syllabus movement research team and working with numerous choreographers in the Bay Area and around the world. Recently I have been influenced by learning from Inuit hunters in the Arctic and studying biodynamic cranial sacral therapy.
Mariana Olvera Pelayo (Technical Director) graduated from Chico State and holds a BA in Theater and Mass Media Communications. Through the years, she has worn many hats working with national & international artists, companies, designers and a variety of personalities through her work at Brava Theater for Women in the Arts, CounterPULSE, the SF Fringe Festival, and most recently, Oakland Venue Management.
Becky Robinson-Leviton (Stage Manager) grew up in Corona, CA and has been studying jazz, modern, and ballet dancing since age 4. In 2011 Becky graduated Cum Laude from California State University, Long Beach with a B.A. in Dance. Becky now lives and works in San Francisco as a freelance modern dancer, theater technician, and assistant/stage manager. In production roles, she has had the pleasure of working with Bill T. Jones, the Joe Goode Performance Group, Sarah Bush Dance, the Blind Tiger Society, ODC, CouterPULSE, Cal Shakes, Center Rep, NOHspace, the Magic Theater, and many more. She is also a current collaborating artist and performer in Kinetech, a movement + technology dance company, an ensemble dancer with WePlayers, and performs with several other individual artists around the bay area. beckyrobinsonleviton.wix.com/beckyrobinsonleviton
Alec White (Production Coordinator) is a performer who works in the arts doing marketing, production management, facilities management, and executive assistance. He graduated from UC Santa Cruz with a double major in Community Studies and Political Theory. He has developed as an artist and arts administrator through hands-on experience, friends, mentors, and workshops. He is immensely grateful to all of those who have taught him since his arrival in San Francisco and he is thankful to all of those who will teach him in the future. Alec has worked at Youth Speaks, CounterPULSE, ODC, and The Marsh, among other organizations. He has performed at Yerba Buena Center for the Arts, Galleria de la Raza, The Garage, LoBot Gallery, and Viracocha.
James Andrew Wilson (Production Assistant) is a multidisciplinary theatre maker, teacher, and scholar. James has written, collaborated on, acted in, and directed plays in Europe, the US, and Canada. He recently worked with the Bush Theatre, London, where he created his solo performance You Know How I Feel. His plays have received workshop productions in San Francisco, and his work has also been produced in France and the Czech Republic. He also coordinated a theatre festival in rural France for two years. He recently completed a PhD in theatre and holds an MFA in playwriting from San Francisco State University, and he studied for two years at the Jacques Lecoq Theatre School in Paris. He has earned several awards, including the Jim Highsmith award for playwriting in 2009. He lives in Oakland. www.james-andrew-wilson.com
SUPPORTERS:
Homo File was developed through the support of the CounterPULSE Artist Residency Commissioning (ARC) Program. This performance was created with generous support from Ken Hempel Fund for the Arts, The San Francisco Arts Commission, The Zellerbach Family Foundation, The William and Flora Hewlett Foundation, The Arch and Bruce Brown Foundation, The Queer Cultural Center, Theatre Bay Area, Creative Capacity Fund, Center for Sex and Culture, Viracocha, and many generous individual donors.
A special thanks to Michael Williams and the Samuel Steward Estate and to Justin Spring for his groundbreaking biography Secret Historian.
Much gratitude to Casey Collins who co-wrote "This is What This M Wants" and his dedicated support on both iterations.
Linocut Artist: Katie Gilmartin
Photographers: Gary Ivanek, Kwai Lam, and Mark McBeth